Prof.ssa Sonja Visentin
Professore/Professoressa associato/a
SSD: CHIM/08 - chimica farmaceutica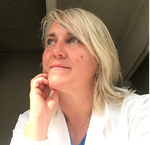 Contatti
0116708337 (Via Quarello) - 0116707663 (Via P. Giuria)
Presso
Department of Molecular Biotechnology and Health Sciences
Dipartimento di Biotecnologie Molecolari e Scienze per la Salute
Biotechnological and Chemical Sciences in Diagnostics
Corso di Laurea in Biotecnologie
Farmacia - Chimica e tecnologia farmaceutiche
Master Program in Molecular Biotechnology
Dottorato in Scienze Farmaceutiche e Biomolecolari
Curriculum vitae
Curriculum Vitae (0.1 MB)
Pubblicazioni
Tutti i miei prodotti della ricerca
Pubblicazioni selezionate
Barbero, Nadia, Butnarasu, Cosmin, Visentin, Sonja, Barolo, Claudia* (2019)
Squaraine Dyes: Interaction with Bovine Serum Albumin to Investigate Supramolecular Adducts with Aggregation-Induced Emission (AIE) Properties.
https://iris.unito.it/handle/2318/1695308
Ciubini, Betty, Visentin, Sonja, Serpe, Loredana, Canaparo, Roberto, Fin, Andrea, Barbero, Nadia* (2019)
Design and synthesis of symmetrical pentamethine cyanine dyes as NIR photosensitizers for PDT.
https://iris.unito.it/handle/2318/1695380
Andrea Costamagna, Matteo Rossi Sebastiano, Dora Natalini, Matilde Simoni, , , Giorgio Valabrega, Paola Defilippi, Sonja Visentin, Giuseppe Ermondi, Emilia Turco, , , Giulia Caron, Sara Cabodi (2019)
Modeling ErbB2-p130Cas interaction to design new potential anticancer agents.
https://iris.unito.it/handle/2318/1694155
Maura Vallaro, Giuseppe Ermondi, Gilles Goetz, Marina Shalaeva, Sonja Visentin, Giulia Caron (2019)
Log P in the bRo5 chemical space.
https://iris.unito.it/handle/2318/1707606
Cosmin Butnarasu, Daniela Pacheco, Paola Petrini, Livia Visai, Sonja Visentin (2019)
Drugs and mucus: understanding the way of interaction.
https://iris.unito.it/handle/2318/1708738
Barbero, Nadia, Coletti, Martina, Catalano, Federico, Visentin, Sonja* (2018)
Exploring gold nanoparticles interaction with mucins: A spectroscopic-based study.
https://iris.unito.it/handle/2318/1695378
Cosmin Butnarasu, Maura Vallaro, Daniela Pacheco, Paola Petrini, Livia Visai, Sonja Visentin (2018)
A biosimilar mucus model to evaluate the diffusion of drugs for more efficient cystic fibrosis therapies.
https://iris.unito.it/handle/2318/1707522
Nadia, Barbero, Sonja, Visentin, Claudia, Barolo, Roberto, Buscaino, Guido, Viscardi (2017)
New polymethine dyes for photodynamic therapy.
https://iris.unito.it/handle/2318/1659559
Ceci-Ginistrelli, Edoardo, Bertiond, Cecilia, Janner, Davide, Pugliese, Diego, Barbero, Nadia, Boetti, Nadia G , Visentin, Sonja, Barolo, Claudia, Milanese, Daniel (2017)
Hollow resorbable fiber for combined light and drug delivery: Fiber development and analysis of release kinetics.
https://iris.unito.it/handle/2318/1659557
Ferrero, Veronica, Visonà, Giovanni, Dalmasso, Federico, Gobbato, Andrea, Cerello, Piergiorgio, Strigari, Lidia, Visentin, Sonja, Attili, Andrea (2017)
Targeted dose enhancement in radiotherapy for breast cancer using gold nanoparticles, part 1: A radiobiological model study.
https://iris.unito.it/handle/2318/1636486
Giordano, Silvia, Pifferi, Valentina, Morosi, Lavinia, Morelli, Melinda, Falciola, Luigi, Cappelletti, Giuseppe, Visentin, Sonja, Licandro, Simonetta A, Frapolli, Roberta, Zucchetti, Massimo, Pastorelli, Roberta, Brunelli, Laura, D', Incalci, Maurizio, Davoli, Enrico (2017)
A Nanostructured Matrices Assessment to Study Drug Distribution in Solid Tumor Tissues by Mass Spectrometry Imaging.
https://iris.unito.it/handle/2318/1637839
Strigari, Lidia, Ferrero, Veronica, Visonà, Giovanni, Dalmasso, Federico, Gobbato, Andrea, Cerello, Piergiorgio, Visentin, Sonja, Attili, Andrea (2017)
Targeted dose enhancement in radiotherapy for breast cancer using gold nanoparticles, part 2: A treatment planning study.
https://iris.unito.it/handle/2318/1639074
Ceci-Ginistrelli, Edoardo, Pontremoli, Carlotta, Pugliese, Diego, Barbero, Nadia, Boetti, Nadia G , Barolo, Claudia, Visentin, Sonja, Milanese, Daniel (2017)
Drug release kinetics from biodegradable UV-transparent hollow calcium-phosphate glass fibers.
https://iris.unito.it/handle/2318/1633889
Barbero, Nadia, Galliano, Simone, Magistris, Claudio, Buscaino, Roberto, Visentin, Sonja, Barolo, Claudia, Viscardi, Guido (2017)
SYNTHESIS OF POLYMETHINE DYES WITH NIR ABSORPTION AND EMISSION.
https://iris.unito.it/handle/2318/1633897
Maura Vallaro, Giuseppe Ermondi, Sonja Visentin, Giulia Caron (2017)
IAM chromatography: information provided and relevance in the prediction of permeability.
https://iris.unito.it/handle/2318/1707566
Nadia Barbero, Marco Marenchino, Ramón Campos-Olivas, Simonetta Oliaro-Bosso, Luca Bonandini, Jasminka Boskovic, Guido Viscardi, Sonja Visentin (2016)
Nanomaterials-protein interactions: the case of pristine and functionalized carbon nanotubes and Porcine Gastric Mucin (PGM).
https://iris.unito.it/handle/2318/1578570
Baldassarre, Francesca, Foglietta, Federica, Vergaro, Viviana, Barbero, Nadia, Capodilupo, Agostina L , Serpe, Loredana, Visentin, Sonja, Tepore, Antonio, Ciccarella, Giuseppe (2016)
Photodynamic activity of thiophene-derived lysosome-specific dyes.
https://iris.unito.it/handle/2318/1575144
Serpe, Loredana, Ellena, Silvano, Barbero, Nadia, Foglietta, Federica, Prandini, Federica, Gallo, Maria Pia, Levi, Renzo, Barolo, Claudia, Canaparo, Roberto, Visentin, Sonja (2016)
Squaraines bearing halogenated moieties as anticancer photosensitizers: Synthesis, characterization and biological evaluation.
https://iris.unito.it/handle/2318/1575374
Visentin, Sonja, Barbero, Nadia, Bertani, Francesca Romana, Guidi, Mariangela Cestelli, Ermondi, Giuseppe, Viscardi, Guido, Mussi, Valentina (2015)
Multivariate analysis applied to Raman mapping of dye-functionalized carbon nanotubes: A novel approach to support the rational design of functional nanostructures.
https://iris.unito.it/handle/2318/1532900
Visentin, Sonja, Fiorio-Pla, Alessandra (2015)
Carbon nanotubes, Halloysite nanotubes and Gold nanoparticles: an overview of some applications for biomedical purposes.
https://iris.unito.it/handle/2318/1575620
Pifferi, Valentina, Falciola, Luigi, Morelli, Melinda, Cappelletti, Giuseppe, Giordano, Silvia, Morosi, Lavinia, Pastorelli, Roberta, Zucchetti, Massimo, Davoli, Enrico, Visentin, Sonja (2015)
Nanoparticle-based matrixes for imaging mass spectrometry: visualization of drugs distribution in solid tumor tissues.
https://iris.unito.it/handle/2318/1611483
Giordano, Silvia, Moros, Lavinia, Pastorelli, Roberta, Zucchetti, Massimo, Falciola, Luigi, Cappelletti, Giuseppe, Pifferi, Valentina, Morelli, Melinda, Visentin, Sonja, Davoli, Enrico (2015)
A nanostructured matrices assessement to study drugs distribution in solid tumor tissues by mass spectrometry imaging.
https://iris.unito.it/handle/2318/1611286
Pontremoli, Carlotta, Barbero, Nadia, Viscardi, Guido, Visentin, Sonja (2015)
Mucin-drugs interaction: The case of theophylline, prednisolone and cephalexin.
https://iris.unito.it/handle/2318/1533077
Caron, Giulia, Visentin, Sonja, Pontremoli, Carlotta, Ermondi, Giuseppe (2015)
Profile of the intermolecular forces governing the interaction of drugs with mucin.
https://iris.unito.it/handle/2318/1532901
Sonja Visentin, Maura Vallaro, Maria del Pilar Camacho, Claudio Medana, Giuseppe Ermondi, Giulia Caron (2014)
SYNTHESIS, LIPOPHILICITY AND PERMEABILITY OF CYCLIC HEXAPEPTIDES AS MODELS TO DISCOVER NEW CELL PENETRATING PEPTIDES (CPPS).
https://iris.unito.it/handle/2318/150567
Sonja Visentin, Nadia Barbero, Guido Viscardi (2014)
A KINETIC STUDY BY STOPPED FLOW OF THE INTERACTION BETWEEN POTENTIAL PHOTOSENSITIZERS AND ALBUMIN.
https://iris.unito.it/handle/2318/150571
Sonja Visentin, Carmen Strangio, Nadia Barbero, Maria del Pilar Chamacho-Leal, Guido Viscardi (2014)
Halloysite Clay Nanotubes as carriers for loading photosensitizer molecules.
https://iris.unito.it/handle/2318/150569
Visentin, Sonja, Strangio, Carmen, Barbero, Nadia, Chamacho-Leal, Maria del Pilar, Viscardi, Guido (2014)
Halloysite Clay Nanotubes as carriers for loading photosensitizers Molecules.
https://iris.unito.it/handle/2318/1611356
Sonja Visentin, Nadia Barbero, Luca Bonadini, Marco Marenchino, Simona Oliaro Bosso, Guido Viscardi (2013)
A study of the interaction between mucin and pristine or functionalized carbon nanotubes.
https://iris.unito.it/handle/2318/136075
Sonja Visentin, Nadia Barbero, Valentina Mussi, Francesca Bertani, Giuseppe Ermondi, Guido Viscardi (2013)
Carbon Nanotubes modified with organic dyes: synthesis and characterization.
https://iris.unito.it/handle/2318/150570
Sonja Visentin, Nadia Barbero, Guido Viscardi, Giulia Caron, Giuseppe Ermondi (2013)
A kinetic study of the interaction between potential photosensitizers and albumin.
https://iris.unito.it/handle/2318/150568
Ermondi, Giuseppe, Esposito, Roberto, Visconti, Alessia, Visentin, Sonja, Vallaro, Maura, Rinaldi, Laura, Caron, Giulia (2013)
Application of in silico classical drug discovery tools for peptide research.
https://iris.unito.it/handle/2318/1611462
Nadia Barbero, Lucia Napione, Sonja Visentin, Maria Alvaro, Andrea Veglio, Federico Bussolino, Guido Viscardi (2011)
A transient kinetic study between signaling proteins: the case of the MEK–ERK interaction.
https://iris.unito.it/handle/2318/89132
Giulia Caron, Sonja Visentin, Giuseppe Ermondi (2011)
Blended-learning for courses in Pharmaceutical Analysis.
https://iris.unito.it/handle/2318/88056
Sonja Visentin, Claudio Medana, Federica Dal Bello, Giancarlo Cravotto (2011)
Investigation on reactions between glutamine and sugar metabolites implicated in non enzymatic browning.
https://iris.unito.it/handle/2318/101777
Sonja Visentin, Claudio Medana, Alessandro Barge, Valeria Giancotti, Giancarlo Cravotto (2010)
Microwave-assisted Maillard reactions for the preparation of advanced glycation end products (AGEs).
https://iris.unito.it/handle/2318/77047
Valentina Mussi, Sonja Visentin, Chiara Biale, Nadia Barbero, Simone Musso, Rebecca Ploeger, Guido Viscardi, Ugo Valbusa (2009)
Drug-delivery applications of carbon nanotubes: raman analysis and mapping.
https://iris.unito.it/handle/2318/68102
Chiara Biale, Valentina Mussi, Sonja Visentin, Guido Viscardi, Nicoletta Pedemonte, Louis Galietta, Ugo Valbusa (2009)
Carbon Nanotubes for targeted drug delivery.
https://iris.unito.it/handle/2318/66602
Chiara Biale, Valentina Mussi, Ugo Valbusa, Sonja Visentin, Guido Viscardi, Nadia Barbero, Nicoletta Pedemonte, Luis Galietta (2009)
Carbon nanotubes for targeted drug delivery.
https://iris.unito.it/handle/2318/66377
Sonja Visentin, Claudio Medana, Alessandro Barge, Valeria Giancotti, Giancarlo Cravotto (2009)
Microwave assisted synthesis of AGEs (advancedglycation end products).
https://iris.unito.it/handle/2318/66369
SONJA VISENTIN, GIUSEPPE ERMONDI, D BOSCHI, ROBERTA FRUTTERO, ALBERTO GASCO (2000)
Aspects of heterocyclic chemistry in developing new 1,4-dihydropyridine Ca2+-antagonists.
https://iris.unito.it/handle/2318/17493
GIUSEPPE ERMONDI, SONJA VISENTIN, D BOSCHI, ROBERTA FRUTTERO, ALBERTO GASCO (1999)
A New Synthetic Approach to Substituted β-Carboline Systems.
https://iris.unito.it/handle/2318/17492
Temi di ricerca
Gruppi di ricerca
Physicochemical aspect of drugs-protein, protein-protein, drugs-mucus interactions and nanotechnology-based systems to improve drug targeting and delivery.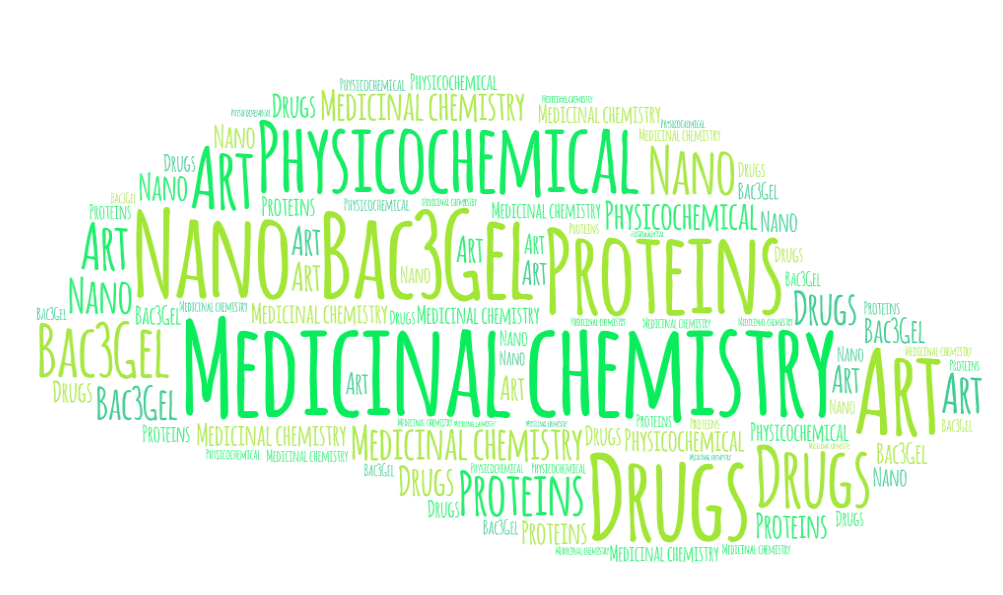 PART 1
My group is interested in the quantitative biophysical analysis of drug-protein and protein-protein interactions at the molecular level. Biophysical methods are uniquely suited to study the thermodynamics and kinetics of interactions between macromolecules. In our group various biophysical techniques are available to characterize binding and assembly of macromolecules in solution, including fluorescence spectroscopy, UV spectroscopy, stopped-flow kinetics and circular dichroism. These methods can provide the accurate quantitative information about the binding affinity between macromolecules such as proteins and nucleic acids and small molecules. They also allow us to explore the interaction on the molecular level and obtain parameters such as the order of the binding kinetics, the kinetic rate constants and the thermodynamics of the interactions.
Main topics:
Protein-protein interactions: to study the interaction between macromolecules involved in difefrent diseases
Drug-protein interactions: Drugs used in fibrosis cystic therapy and mucin and photosensitizer used in photodynamic therapy and plasma proteins like HSA and BSA.. Identification of protein as biomarkers through fluorescence "turn on" of specific dyes.
PNA-DNA interactions: to study from a kinetic point of view this kind of interaction using the stopped flow technique.
PART 2
I apply medicinal chemistry based approaches and nanotechnology-based systems to improve drug targeting and delivery.
Main NaNOtopics:
gold nanoparticles for radiotherapy and hadrontherapy. Both approaches rely on the damage caused to cells by ionizing radiation, which is released mostly on cancer cells by means of IMRT techniques (Radiotherapy) or energy tuning (Hadrontherapy) (INFN financed project).
Carbon nanotubes, carbon nanodots and Halloysite nanotubes used as drug delivery systems.
Nanostructured-initiators for matrix-free, surface-based mass spectrometry imaging of antitumor drugs in tissues (Cariplo grant)Mass spectrometry imaging (MSI) is one of the latest, rapidly growing, innovative techniques in mass spectrometry (MS). It is used to visualize molecular distribution in a two-dimensional space of a sample attached to an electric conductive steel plate or glass slide. In this context, the goal of this study is the development of specifically designed surfaces for the imaging of antitumor drugs, after administration, in normal organs or tumors tissue of mice, with high spatial resolution and sensitivity.
protein nanoparticles for antimicrobials release (patent pending, UniTO, PoliMI, UniPV)
PART 3
Bac3Gel project: Bac3Gel is a revolutionizing substrate for bacteria culture, solving this problem by mimicking the physicochemical properties of human mucus, where bacterial infections thrive. Bac3Gel is able to model any type of mucus, in healthy or pathological states, with an antibiotic barrier effect similar to physiological effective doses. Allowing efficient screening at the in vitro stage of antibiotic development, cumulatively saving costs later on. This project is made in collaboration with PoliMI and UniPV
For more infos please refer to www.casmedchem.unito.it
Organi